We at CLS are exited to announce that one of our our coverage partners, Centurion Medical Liability Protective , RRG, has been approved to write medical malpractice insurance in Tennessee! Centurion offers affordable pricing along with a broad coverage form including license and reluatory defense and Cyber Liability (Data Breach). Tennesse physicians interested in a quote can contact us at 1-866-321-8745.

For more than 25 years, CLS Healthcare Liability Specialists has been providing healthcare professionals across the country with innovative solutions for medical malpractice insurance, including locum tenens insurance in Miami. As the foremost writer of locum tenens staffing companies, it's no surprise that we're able to offer exclusive policies that feature non-auditable flat premiums. For busy healthcare professionals, the thought of avoiding the dreaded audit process upon the expiration of a policy is a welcome change. With our non-auditable locum tenens insurance policies, you'll only need to provide us with your estimates without having to worry about underpayments.
Unlike many professional liability insurance carriers, our affordable malpractice insurance offers blanket additional insured coverage. There's no need to name the specific third parties to which you would like to extend coverage. Simply provide a general description and you can rest assured that any third party claims will be covered. Healthcare professionals who turn to CLS Healthcare Liability Specialists will also find that our locum tenens policies feature extremely competitive premiums with defense costs outside available limits.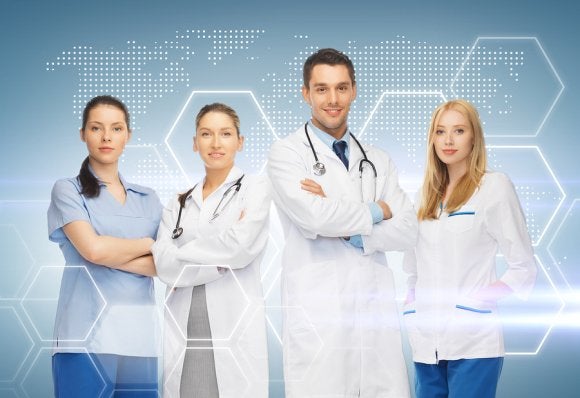 For physicians, being a locum tenens can open many doors. These temporary positions allow physicians to have flexibility and travel to work in new locations. While there are many upsides to being a locum tenens, having the right professional liability protection is critical. Since traditional medical malpractice insurance doesn't typically cover locum tenens work, professional liability insurance is usually provided to the temporary physician by the agency that placed him or her in the position. Where do locum tenens companies get their insurance? Find out in this infographic from CLS Healthcare Liability Specialists , a provider of professional liability insurance in Miami. We're a national leader in meeting the unique insurance needs of medical professionals, from locum tenens insurance to urgent care malpractice insurance. Contact us to discuss your company's insurance needs and to get a simple quote, and please share this information about our highly rated coverage and affordable premiums with others in the healthcare field.



If you're looking for locum tenens insurance in Palm Beach, look no further than CLS Healthcare Liability Specialists. Our company has been given the award of #1 Writer of Locum Tenens Staffing Companies, an honor which our company works hard to uphold by offering exemplary customer service and a diverse range of locum tenens insurance solutions. With three decades of med-mal industry experience and as the largest writer of locum tenens insurance policies in the U.S., you can count on CLS Healthcare Liability Specialists to find the policy you need at an attractive rate.
Our affordable malpractice insurance for locum tenens staffing companies and individual locum tenens physicians includes blanket additional insurance coverage, defense costs outside available limits, and non-auditable flat premium policies. Since our carrier is approved in every state in the U.S. and in 200 countries, and has six billion in assets, you can rest assured you're purchasing a policy you can count on. When it's time to look for locum tenens insurance, we'll be happy to provide you with a quote at no charge.

Many healthcare providers dread the day they might receive a notice of misrepresentation from a disgruntled patient's attorney. It's essential to have healthcare liability insurance in Palm Beach. However, while affordable malpractice insurance such as medical staffing insurance protects you from liability in the event of a lawsuit , the overall costs of medical malpractice to the U.S. economy are staggering.
When you watch this video from CNN, you'll hear two experts debating the merits of medical malpractice caps and discussing the pitfalls of defensive medicine. While medical malpractice payouts equal approximately $1.4 billion each year, defensive medicine has been shown to cost the U.S. economy far more in unnecessary medical expenditures. This video serves as a good reminder of the importance of regularly reviewing your healthcare liability insurance policy to ensure adequate coverage.


For many physicians, locum tenens positions offer the ability to travel to new locations, transition to the next stage in their careers, and choose their own assignments. And for existing practices, locum tenens employees provide an ideal stop-gap solution to temporary staffing shortages. CLS Healthcare Liability Specialists is the leading provider of locum tenens insurance in Palm Beach. We also provide affordable malpractice insurance from our offices in Georgia and Texas.
When you choose our company for your medical staffing insurance needs, you'll have access to highly competitive premiums—a must in today's evolving healthcare industry. We offer non-auditable flat premium policies, with defense cost outside the limits available. Our top-rated carrier has been approved not only in all 50 states, but in 200 countries. If it's time to upgrade your locum tenens insurance, you can rely on CLS Healthcare Liability Specialists to provide premium coverage and a simplified quoting process. Plus, when you work with our experts, you won't have to purchase "tail" insurance from your current provider.